Pop culture is so saturated with zombies that it seems quite silly. Or is it?
Take, for instance, the new (free) add on "Halloween" theme for the iOs GPS app, CoPilot Live. The opening screen transforms the colors to an autumnal trick-or-treaters fantasy with a goofy spiderweb on top (making its opening message — "Buckle Up!" seem far more ominous than it otherwise would)… and it also includes a clever zombie icon for the "Walk" GPS option, as well as funny green dismembered hands as pointers to locations.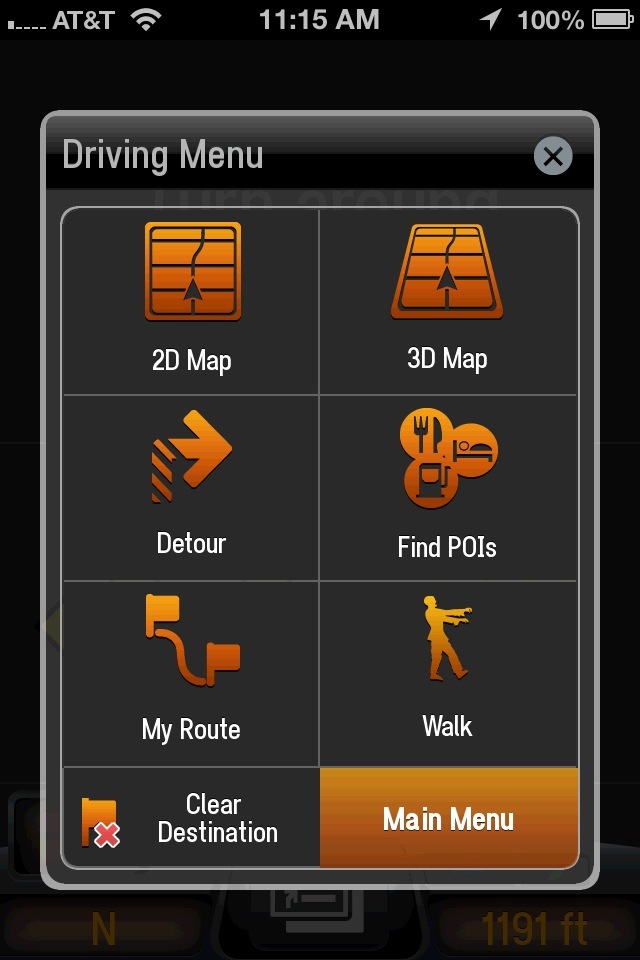 It's probably easy to dismiss this kind of thing as yet another goofy appropriation of horror genre tropes for pure marketing. I prefer to think that anytime you see a "zombified" commodity — perhaps most of all when the object seems ephemeral and totally unrelated to the horror genre — that there is still some true expression of fear there, lurking beneath the kitsch. Something repressed, that threatens to return…
GPS devices are used as maps that synchronize your position on a map through satellite technology. They're highly scientific, yet I think most consumers treat these devices more like "the magic of everyday life" than as the technology they really are. The "knowingness" of the device comes "from beyond" to not only indicate where you are, but also to direct you on your way. In fact, most of these things SPEAK to us, like some kind of robotic backseat driver. It's uncanny. Especially when they know more than we do about our location and how to save us from getting lost. A GPS literally enacts the "omnipotence of thoughts" that Freud describes in his foundational theory on Das Unheimlich.
This is why zombies make sense when used as a 'skin' for a GPS. It slyly suggests that when we follow the directions automatically, unthinkingly, that we are akin to robots following the programming, driving our cars, virtually on "autopilot." Underscoring this is the fear of being lost in a strange land. The world of strangers. The place outside of our safe car bubbles, where Others roam.
Sometimes that fear may be warranted, but where there is anxiety there is always a market. And it's not just GPS skins. Take trick-or-tracker, for instance — an iPhone app designed to help worried parents locate their children while trick-or-treating using their phone's GPS. Sounds like a useful application of GPS if you're a helicopter parent, I suppose. Or howabout the GPS Halloween Adventure held in Ewing, VA's Wilderness Road State Park? Both use GPS as talisman-like device for survival. Sounds ingenious! But also further proof of how the 'magic' we put into these technological divining rods are structures reflecting our fears and wishes rather than an application of science.